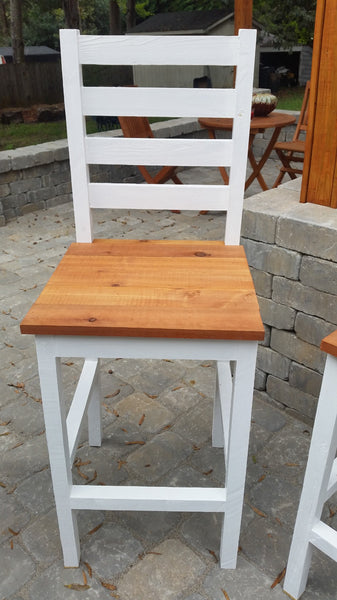 I just finished building a set of some Bar stool, pub chairs to go with the new pub table I just built. I used a variety of plans, mainly basing the design on the always helpful plans from  Ana White.

 I made some minor modifications to the design as I needed bar height stools, and not counter height. this was easily solved by changing leg height dimensions, while keeping the rest of the cut list the same dimensions.  Overall I made them 28 3/4" from the ground to the top of the seat (28" legs), I would like them taller but I have stubby legs and that would be like an alligator climbing a tree, so these are just fine.

As these are for outdoor duty, I used Pressure treated lumber for the chair frames, and Cedar for the seats.  Stainless steel hardware was used because the newer PT wood will DESTROY normal screws with a quickness!

After the fun process of sanding, filling, and sanding some more, the chairs were finished with 3 coats of exterior semi gloss paint, and a light natural cedar tone stain applied to the seats.

If you dont stain cedar it will eventually fade to silvery gray, so I suggest a light stain to keep those UV rays away!

All in all I'm happy with the build. The chairs are surprisingly sturdy, and I look forward to years of abusing them!
Read more →
---
---