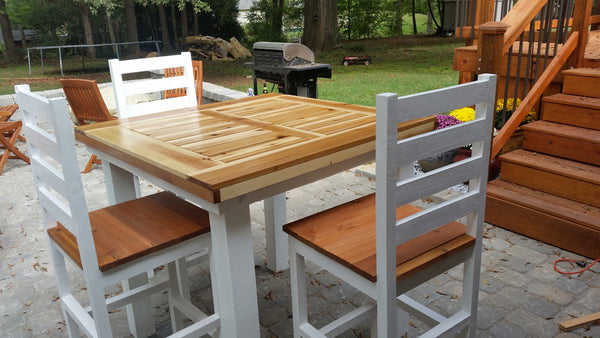 Pub Tables are great, Ive always loved them but never had one....so it was time to build one!  For rough design plans I checked into  Ana Whites website as she has tons and tons of good designs.  
This table is loosely based on these plans, with my bastard modifications.  So lets dive in.
The legs and apron are standard 4x4's and 2x4's, just to keep things simple.
The top is red cedar laid out in a more decorative pattern which, while Im really happy with, turned out to be a pain in the ass to build.  
For connecting the legs to the Apron i used, 3/8" galvanized carriage bolts with nuts and washers as opposed to screws, this creates a much more stable leg, and also the legs are removable, and in the case of a zombie apocalypse you have 4 clubs!....
Heres some detail shots showing the basic connections for the zombie clubs....errrr table legs.
After the frame was built, it was time for the top, which I built from 1x6, and 1x4 cedar boards.  I attached the 1x6 outer perimeter with pocket hole screws, and added the center board.  Then i measured and cut each 1x4 slat to fit, and attached them from underneath with a variety of braces and stretchers to support and attach the tabletop as seen below.
LOTS of screws.
Although I could have left the top unfinished as cedar is naturally weather resistant, over time cedar will turn a nice silvery grey,  so i chose to seal it with Helmsman Spar Urethane. I have used many many sealers over the years, with varying results, but if outdoor protection is what you are looking for this stuff is seriously amazing with 3-5 THIN coats.
.
Before                                                   After
And...we are done. Its an outdoor table, it does what a table does and doesn't fall down, or rot away. Mission accomplished.I also built some  Pub Stools to go with this, go check em out.
 Need some Bar art?  These Prints will go great with the pub table!
Read more →
---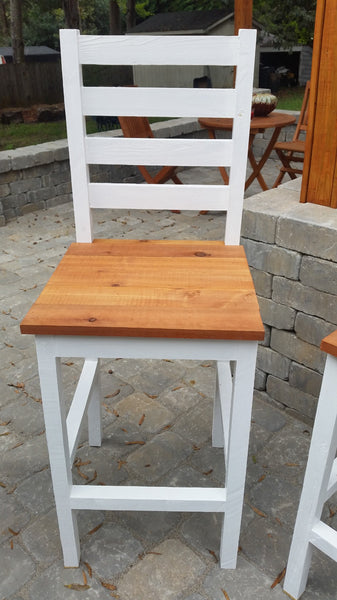 I just finished building a set of some Bar stool, pub chairs to go with the new pub table I just built. I used a variety of plans, mainly basing the design on the always helpful plans from  Ana White.

 I made some minor modifications to the design as I needed bar height stools, and not counter height. this was easily solved by changing leg height dimensions, while keeping the rest of the cut list the same dimensions.  Overall I made them 28 3/4" from the ground to the top of the seat (28" legs), I would like them taller but I have stubby legs and that would be like an alligator climbing a tree, so these are just fine.

As these are for outdoor duty, I used Pressure treated lumber for the chair frames, and Cedar for the seats.  Stainless steel hardware was used because the newer PT wood will DESTROY normal screws with a quickness!

After the fun process of sanding, filling, and sanding some more, the chairs were finished with 3 coats of exterior semi gloss paint, and a light natural cedar tone stain applied to the seats.

If you dont stain cedar it will eventually fade to silvery gray, so I suggest a light stain to keep those UV rays away!

All in all I'm happy with the build. The chairs are surprisingly sturdy, and I look forward to years of abusing them!
Read more →
---
---